Ferrari 250 TR #0704 Arguably The Most Important Ferrari In Existence…
Pebble Beach is one of those events that really don't need an introduction. It is undoubtedly one of only a handful of absolute 'must attend' events in the world and a place that you can guarantee that you will see a selection of the world's finest cars.
The Pebble Beach concours is part of an intensive week on the Monetrey peninsula in California where there is almost so much to see and do, planning your time becomes crucial. The week includes a number of auctions (RM, Gooding and Bonhams) being three of the most important, The Quail concours, historic racing at Leguna Seca and any number of rallies, parades, runs and displays. We simply love it.
But 2014 was something very special for Tom, as he had the privilege and honour to be invited to show the wonderful Ferrari 250 Testa Rossa, chassis no. 0704. This particular Testa Rossa is a car with impeccable history and fabulous originality, and we think it's fair to say that the crowds at Pebble were simply blown away by it.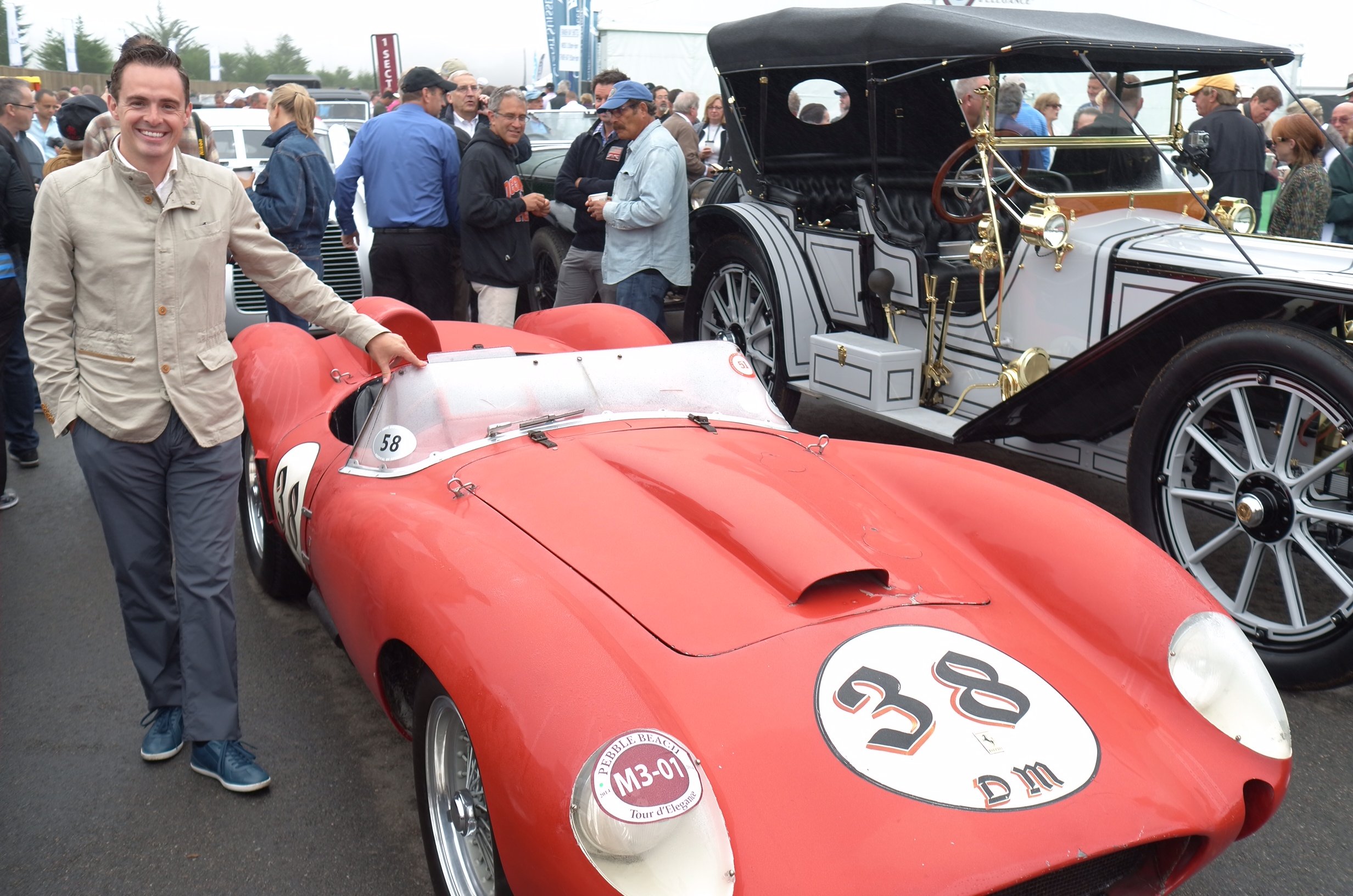 Above: Tom getting prepared with the old girl!
And so were the judges – the car scooped the FIVA Postwar Trophy, the R&T Trophy, The Revs Program at Stanford and 3rd in class Tom Hartley Jnr felt pretty chuffed with a haul of awards like that!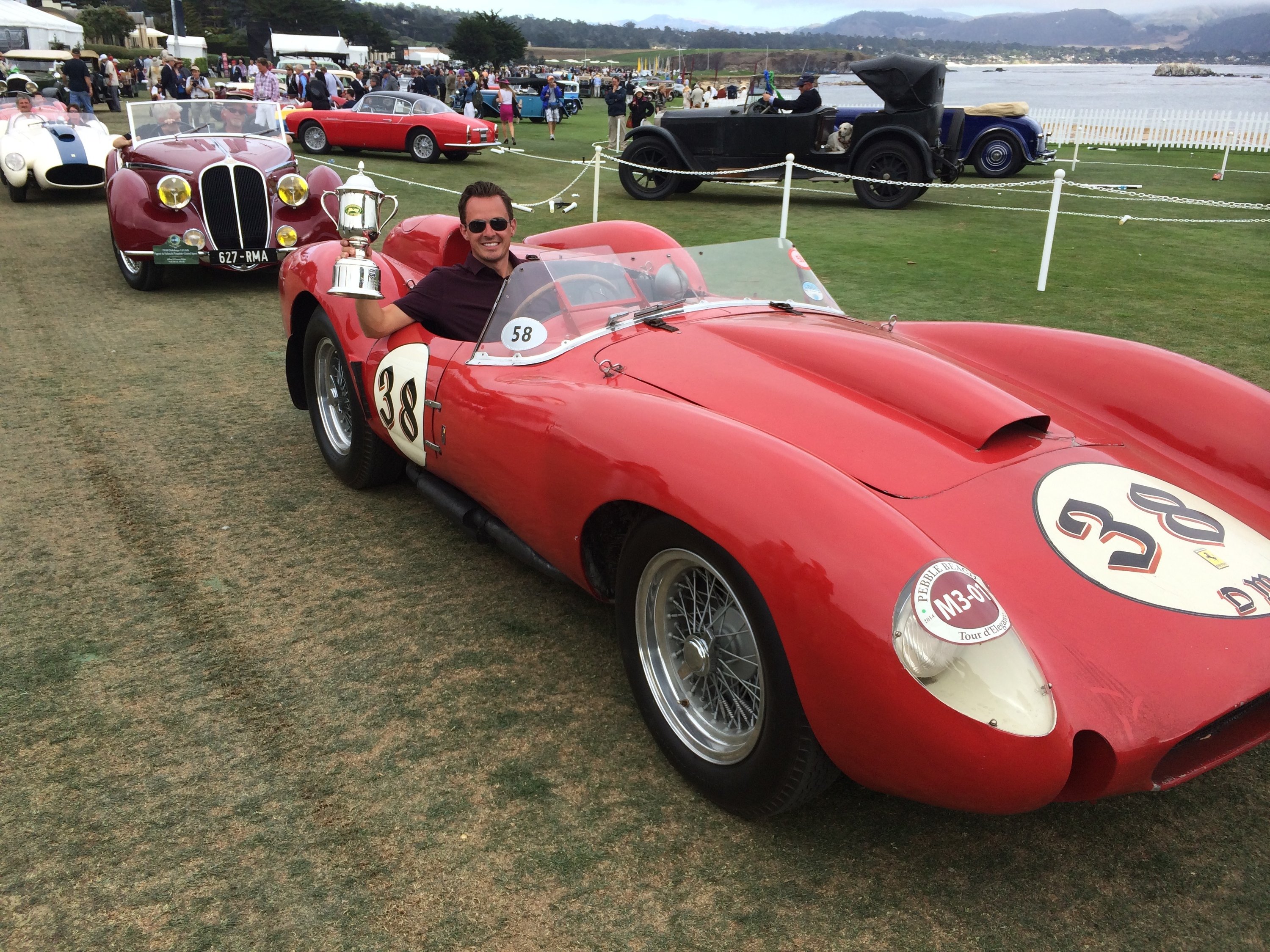 Above: Tom recieving the FIVA Postwar Trophy, such a successful weekend!!
#0704 has a remarkable history, being the 2nd prototype built and originally presented as Scaglietti's 1st pontoon fender design. It was later converted to the 'enveloped' body design during its period as a factory team car. Raced by many of  the most highly regarded and famous team drivers of the period, it participated in over 40 races between 1957 & 1963.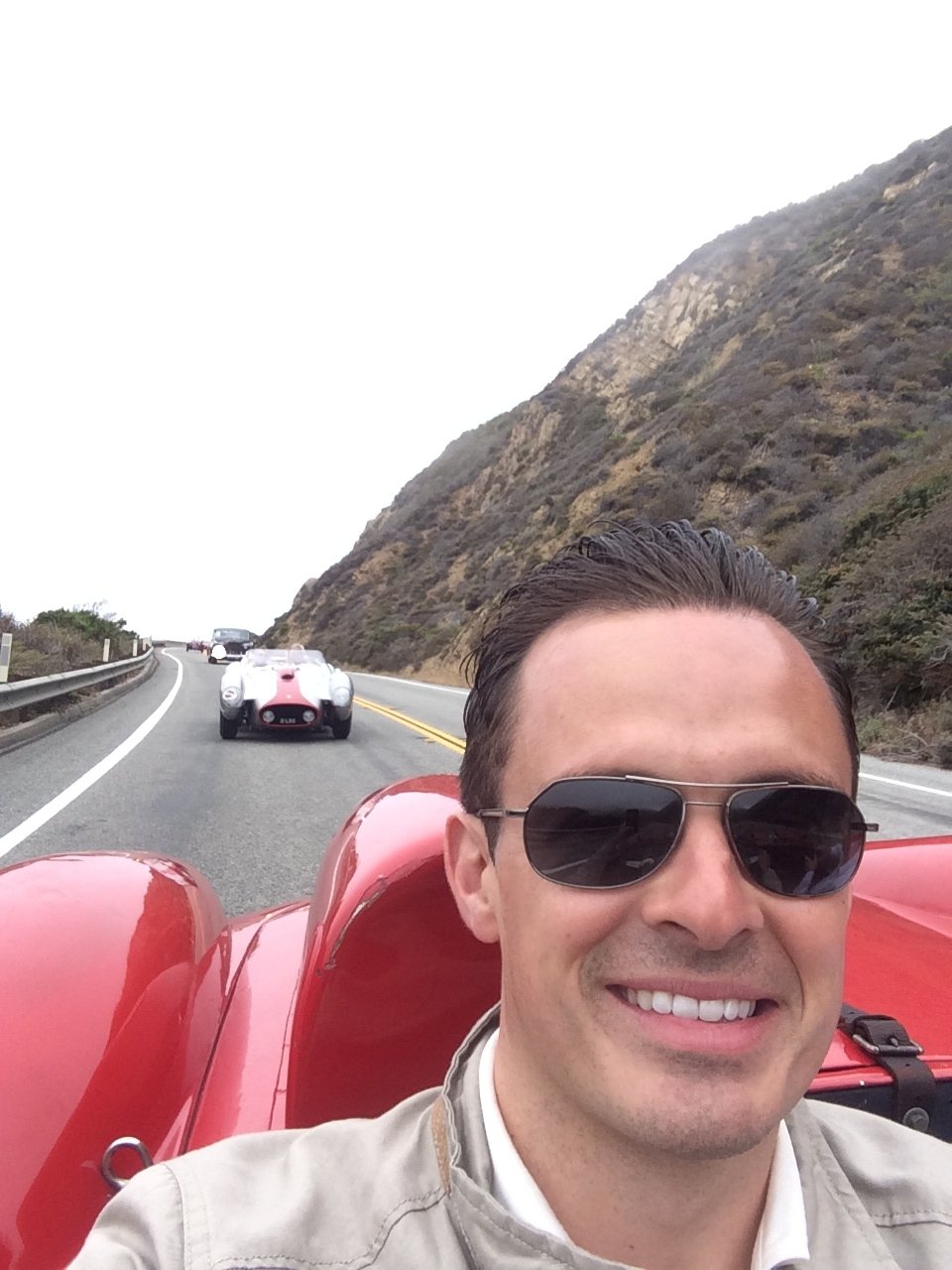 Above: Tom and the old girl being followed closely by Lawrence Stroll in his elegant 250 TR.
The car is remembered for her race number '38', and it was following the death of the car's long-term driver, Arther True, in 1965, that the decision was taken to retain True's decals and race number in his honour.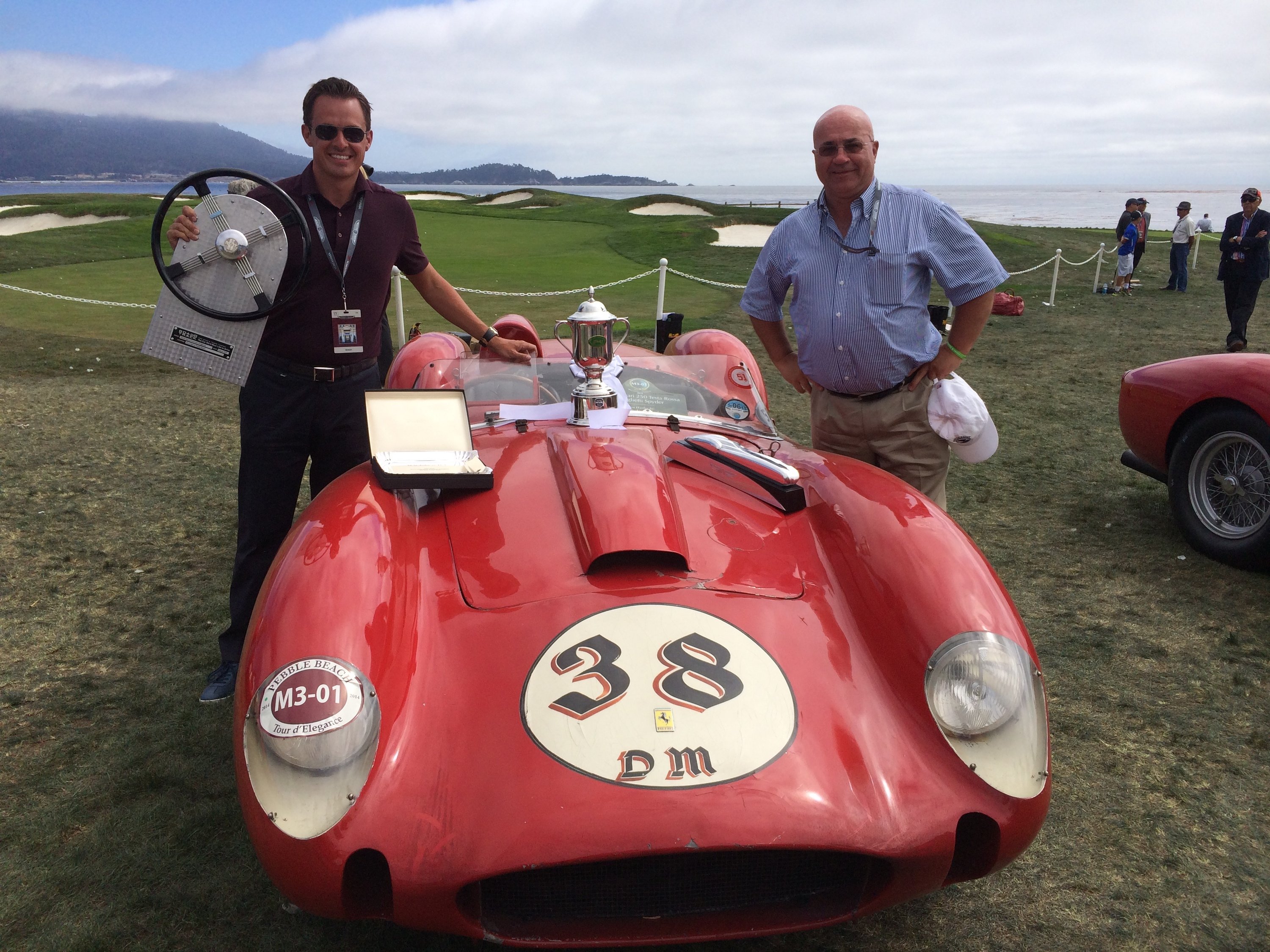 Above: Tom accompanied by world renowned Ferrari Historian Marcel Massini. 
After over 30 years residing in the Henry Ford Museum it was time to bring her out and reintroduce her beauty to an eager public, where she captivated her audience from the Thursday Tour D'Elegance through to Sunday's Concours D'Elegance.
Just when we thought the fun had ended we even found the time to acquire an Aston Martin DB4 GT and to catch up with many friends and associates.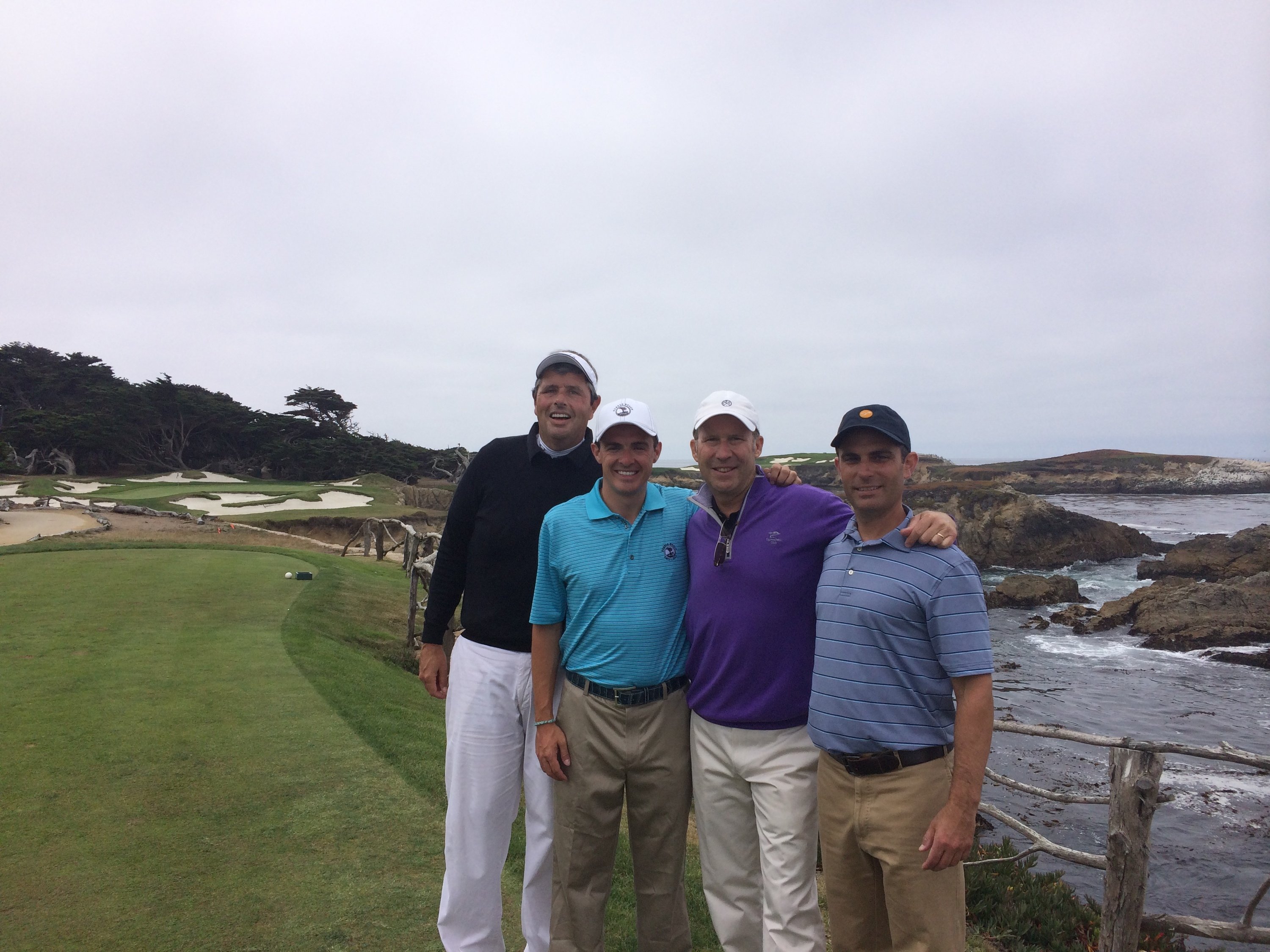 Above: On Tour with Tom! He still managed to sneak in his annual 18 hole match around Cyprus Point with good friend Doug Mackenzie.