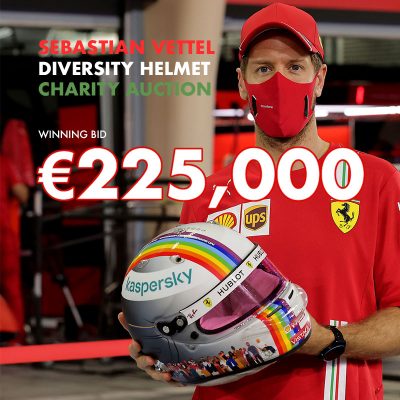 Our good friend and client Sebastian Vettel entrusted us to handle the sale of his unique 2020 Diversity helmet that represents we are 'Together As One'. All of the proceeds raised have gone to two remarkable charities to help improve the lives of children in Uganda and Togo.
Although we are not an auction company nor have orchestrated anything by way of auction under our umbrella in the past, with very short notice we adapted quickly and not only achieved a good result but absolutely smashed the World record for any previous helmet sale! After an intense bidding frenzy the virtual hammer came down and bidding ended at 15:10 (GMT) Sunday 13th December 2020, after the race in Abu Dhabi which marked the end of the 2020 F1 season.
The final sales price achieved was a remarkable €225,000.
Sebastian wore this helmet at the 2020 Turkish Grand Prix where he finished on the podium after starting 12th on the grid, plus at the first race in Bahrain. Acquiring any race-worn Vettel helmet is a very special opportunity as he personally retains all of them with the exception of only three; two of which having been gifted to special friends and one to a previous charity. This helmet will be the only Ferrari race-worn helmet he has parted with, the one he wore for his last podium at Ferrari and none of the others are comparable to this unique design piece so a huge congratulations to the winner.
Children a Chance
Half of the proceeds from the Sebastian Vettel "Diversity" helmet auction will be used to initiate long-term support for the Children a Chance organisation, so that the children can attend school In a suitable environment and have school uniforms...

"Children a Chance" is an organisation aimed at helping disadvantaged children in Uganda, be they orphans, disabled or HIV positive. It is founded on the belief that education is the key to development and thus an independent life with a future.
Find out more
Smiles for Togo
The other half of the proceeds from the Sebastian Vettel "Diversity" helmet auction will be used to support the organisation "Des sourires pour le Togo". The children will benefit from school and professional training so that their future is secured in the long term...

"Smiles for Togo" is a Swiss organisation that implements social and sustainable projects for children in Togo. With the motto "helping people to help themselves", the association is committed to the following areas: water supply, education and health / quality of life.
Find out more